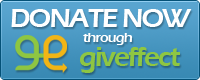 LIFEDesigns uses your contributions to provide quality services to the individuals we support. Just as there are many different individuals who benefit from your generosity, there are also many different ways to support our mission! We are grateful for your time, monetary gifts, and in-kind support. Read LIFEDesigns' 2013 End of Year Letter from CEO Susan Rinne to learn more about the impact of your giving.
Ways to Give:
By mail or in person
200 E. Winslow Rd., Bloomington, IN 47401
Use GoodSearch.com
Goodsearch.com is a Yahoo-powered search engine that donates about a penny for each search. Use GoodSearch instead of Google, Bing, or Yahoo, and support LIFEDesigns while getting the results you need. If 50 people search just 5 times a day that would earn over $900 for LIFEDesigns in one year!  Don't forget to designate "LIFEDesigns, Inc. (Bloomington, IN)" as the charity you GoodSearch for!
Shop at AmazonSmile
As an AmazonSmile charity, you can now donate to LIFEDesigns with every eligible Amazon purchase. Shop here and select LIFEDesigns Inc. as your designated charity.
Memorial giving
To give in memory of someone, use the memo line on your check or the "notes" in your online gift "In Memory of (Name)". Your in memoriam gift is a great way to honor them by  and support the agency that was a big part of their life. With this gift, others will be touched by LIFEDesigns just as your loved one was.
Contribute to our Endowment
Create a more secure future for LIFEDesigns by contributing to our Endowment. Our endowment will ensure that LIFEDesigns can continue to serve people with disabilities well into the future. Leave a lasting legacy and deduct your endowment gift from your taxes. Simply designate your online or written gift for the "Endowment" fund under "Special Instructions."

Planned giving
Most people get overwhelmed thinking about planned giving, but really it is just planning a gift to LIFEDesigns ahead of the time you give it. A planned gift can also offer tax advantages to both you and your heirs. When you think about planning a gift to give to LIFEDesigns, keep these things in mind:

Your gift is one way to express a legacy by telling your life story
Capturing your story is something a planned gift can do
No gift is too small to be a planned gift
You are in control of your gift, and you can always change your mind and your plan at any time

There are many options for giving a planned gift to LIFEDesigns:

Bequests in Your Will (the simplest and most popular option)

Simplicity: Just a few sentences in your will or trust are all that is needed.
Flexibility: Because you are not actually making a gift until after your lifetime, you can change your mind at any time.
Versatility: You can structure the bequest to leave a specific item or amount of money, make the gift contingent on certain events, or leave a percentage of your estate to us.
Tax Relief: If your estate is subject to estate tax, your gift is entitled to an estate tax charitable deduction for the gift's full value.

Suggested wording when writing your will – simply fill in the appropriate details:
"I bequeath to LIFEDesigns, Inc., an Indiana non-profit corporation with its principal office currently at 200 E. Winslow Rd., Bloomington, Indiana, [and the specified program, if appropriate] for the purpose of providing services to individuals with disabilities allowing them to lead meaningful and active lives in our community [a specified sum, or specified items, or the residue of my estate] free of all duties, and the receipt of the Secretary or other authorized officer of LIFEDesigns, Inc. for the time being shall be a complete and sufficient discharge for the executor(s)".

Retirement Plans or Life Insurance

Beneficiary or Co-Beneficiary
Charitable Rollover

Charitable Remainder Unitrusts or Charitable Lead Trusts

Charitable Gift Annuities

By including a charitable gift to LIFEDesigns in your estate planning, you can help LIFEDesigns continue to offer life-changing services for future generations of individuals with disabilities. We advise you to speak to a professional, specifically one who specializes in estate planning, to create your planned gift. Although LIFEDesigns does not give professional financial or estate planning advice, we are happy to work with you and the professional you choose to design a planned gift to LIFEDesigns that is right for you and your family.
If you have any questions about donating, please contact Stephanie Shelton, Community Development Officer, at 812-332-9615 Ext: 218 or support@lifedesignsinc.org.